Curse of 1000 Mommies Dropcard!
Hello Everyone!
This is another special one from the Dr.Maddvibe's Medicine Cabinet.

It's that chilling time of the Year for another coldblooded single release.
This is a collaboration between Angelo Christopher Moore and Christopher Moore
and it's called "Curse of 1000 Mommies" for all of you mOmmy Monsters out there that lOve to put the Curse down.
   
All you gottah do is put in the Access code
on the back of your mOmmie monster drop card and enjoy the music!

As of now these drop cards are available from the Angelo Moore Dr.Maddvibe himself
at the nearest Fishbone or Maddvibe show. Or Christopher Moore at the moment.
But will be quickly spreading threw out the public.

If you spot the doctor most likely he will have one of these
special tour pass style drop cards on him.
So keep on the look out.

-Dr. MaddVibe
FUNKYMADDLOVE!
Super excited for this New Music that released today with my brothers
Angelo Moore of Fishbone and P-FUNK ALL-STAR RonKat Spearman!!

Together we are Funkymaddlove and this one is great
for dancin' in the HOT Summer Sun!!
Enjoy…

-Keno Mapp (Mooremapp Records)
What's The Most OPTIMISTIC Song!?
Get OPTIMISTIC YES on the list of Most Optimistic Songs Ever Written!

The Petition:
Angelo Moore, the charismatic frontman to the legendary Ska/Punk/Funk/Soul Ensemble Fishbone,
has heralded new ground in positivity by creating what is arguably the most optimistic song in history.

The song, Optimistic Yes, broke ground in the summer of 2012 and has achieved
accolades on both the songwriting and an incredible video.
However, given the limited reach of completely independent distribution,
the song has been overlooked by many of the list-makers of the world when creating
"The Ten Most Optimistic Songs Of All Time"
on strategies.com, SongsAbout.com, blogcritics.org, hubpages.com... amongst others.

This petition will go to those who make lists, as well as serve as a battle cry
for anyone who signs it - to help make the world know just how positivity
can shine through music and a positive mental attitude.
I am incredibly optimistic that we can reach this minor goal and achieve
a much greater one just by rallying together.

Thank You
(Chris Kent and All MaddVibe Team)



www.ipetitions.com/petition/optimistic-yes-angelo-moore/
Polish Yoself??
Sickness.


Special Mattesturbator set for Fishbone's Angelo Moore (aka - Dr. MaddVibe).
Artwork by Misae Chibian.
MaddVibe/ManGlaze photo shoot pics coming soon!
(Original Text from MANGLAZE Original Matte Nail Polish)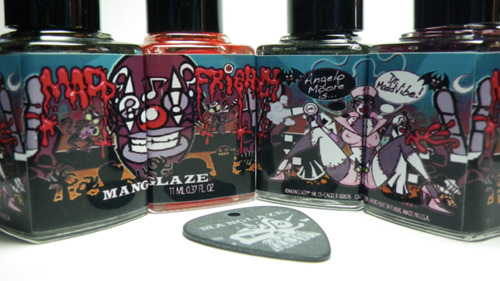 Angelo's Fine Art Collection
reaching past your limitations